Spinal Decompression in Crandall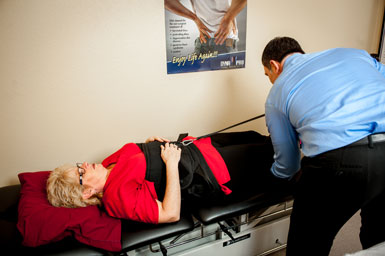 If you've been putting up with disc pain and nothing has seemed to help, we offer an effective non-surgical solution at Johnson Chiropractic. FDA-cleared spinal decompression is a safe and painless therapy. It helps to relieve pressure on vital structures of the spine by reducing pressure inside the discs.
How Does It Work?
Therapy on a spinal decompression table creates a negative pressure inside the herniated, bulging disc, letting it retract naturally, thus relieving disc pressure on spinal nerves. The result is pain relief. Reducing pressure in the discs also reinstates the natural transfer of surrounding fluids, nutrients and oxygen into the disc. This process is vital for disc health.
Conditions That Can Be Addressed
Spinal decompression can be helpful for the following conditions:
Bulging discs
Degenerative discs
Herniated discs
Sciatic-type pain
Low back pain
FAQ
Why would someone seek spinal decompression versus chiropractic?
Some patients don't want to receive a chiropractic manipulation and are looking for a more passive type of therapy. Spinal decompression is also ideal for low back pain that's not responsive to
chiropractic care
. According to some estimates, spinal decompression is 87% effective for those with low back pain.
What should I expect at my appointment?
Dr. Johnson
will first perform an examination. If you have MRI findings, please bring those with you to the appointment. He can read your report and determine what level of spinal decompression you require. If you haven't had an MRI, he will recommend that you get one or have X-rays taken.
Your session is painless, and you will be fully clothed and in a comfortable position.
What are the main benefits of spinal decompression?
This therapy can alleviate pain, numbness, tingling, or muscle weakness and improve range of motion. We find that 9 out of 10 people will experience a benefit from spinal decompression.
Does insurance cover spinal decompression?
No; please be aware that this therapy isn't covered by any insurance.
How many sessions will I need?
Your frequency depends on the size and level of herniation and your compliance with our recommended course of care. We recommend a minimum of 12 visits per level (twice a week for at least six weeks). You may require up to 48 appointments. Some patients think that just one or two sessions will be enough. It's important to know that a couple of sessions won't yield any benefits.
Book a Session Today
You don't need to suffer needlessly from disc pain. Contact Johnson Chiropractic today to book a spinal decompression Crandall session! You'll get the personalized, one-on-one attention and care you need to start healing.
CONTACT US »

Spinal Decompression Crandall, Mesquite, Seagoville, Scurry, Kaufman TX | (972) 472-3818