Cold Laser Therapy in Crandall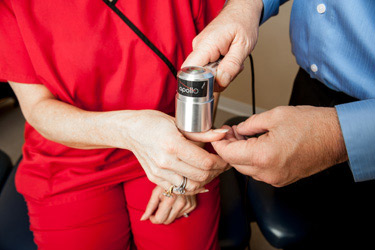 Are you tired of dealing with persistent extremity pain? Perhaps you're looking for a state-of-the-art type of therapy to address your symptoms. Look no further. One of the most promising types of modalities we can offer today is cold laser therapy. This FDA-cleared therapy is typically used for pain in the shoulders, elbows, wrists, knees and ankles.
What Are Some Other Benefits?
Breaks down scar tissue
Diminishes swelling
Reduces inflammation
Creates new cell growth
Accelerates healing
Is a noninvasive type of therapy
What to Expect
True to its name, cold laser therapy initially feels cold, but it does warm up during your session. It doesn't hurt at all, and you'll feel a warm, tingling sensation by the end of the therapy. Depending on the area that we will address, you'll either sit or lie down. For example, if you're receiving cold laser on your shoulder, you can sit in a chair. Each session is quick, taking only 3-7 minutes per area.
FAQ
How long does it take to experience results?
Many people can experience relief in just 1-2 sessions. Because every case is different, however, it may require more courses to experience alleviation of your symptoms.
Are there any side effects associated with cold laser therapy?
In the clinical trials that have been conducted, no side effects have been reported. That's not the case with prescription medications and surgery, which often have associated risks.
Does insurance cover cold laser therapy?
No; this therapy isn't covered by any insurance.
Can I purchase a package of sessions?
Yes; we offer a package deal. You can purchase a certain number of sessions and use them when needed.
Get Started Today
Discover the difference that cold laser therapy could make in alleviating your pain and other symptoms. Contact Johnson Chiropractic today to schedule an appointment for cold laser therapy Crandall! In our homey practice, you'll get the personalized attention and care you need to get on the path to healing!
CONTACT US »

Cold Laser Therapy Crandall, Mesquite, Seagoville, Scurry, Kaufman TX | (972) 472-3818