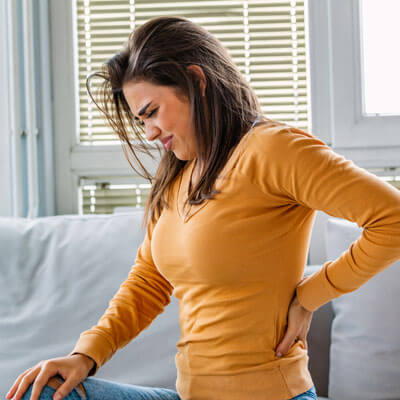 Sciatica in Crandall
Sciatica is a painful condition that occurs along the sciatic nerve, which runs from the lower back down the legs. When this nerve is compressed or irritated, usually due to misalignment in the spine, it can lead to intense pain and discomfort.
Chiropractic care offers various techniques to alleviate sciatic pain. Through adjustments and therapies such as laser treatments and spinal decompression, inflammation, muscle spasms, swelling, stiffness, and cramping of the sciatic nerve can be reduced. Chiropractic care has proven to be an effective way of managing sciatic discomfort.
NEW PATIENTS

What to Expect
When you visit Johnson Chiropractic, our chiropractor will begin with a thorough evaluation, including an examination and X-ray to confirm the source of your pain. Based on the evaluation, we will offer different treatment options, which may involve adjustments, physiotherapy, or a combination of cold laser therapy and non-surgical spinal decompression.
In our clinical experience, many individuals have found relief from their sciatic discomfort through chiropractic care. It is essential to be aware of any warning signs or symptoms related to sciatica that may prompt you to seek chiropractic care promptly.
Recognizing Sciatic Pain and Seeking Treatment
Sciatic discomfort typically begins in the lower back and gradually spreads through the hips and down the leg. It can extend as far as the toes or anywhere in between. If the pain surpasses the knee, it indicates sciatic pain rather than a bulging or herniated disc, which usually stays above the knee.
If you feel nervous about trying chiropractic care for sciatica, it is important to note that chiropractors like Dr. Johnson are highly experienced in addressing this condition. While some people may have reservations about the adjustment process, it is a straightforward procedure that isn't scary, and it's something we perform daily at our clinic.
How Long Does It Take to Resolve?
Sciatica is not typically a condition that resolves quickly. Therefore, when you visit our clinic, we will work with you to develop a treatment plan tailored to your specific needs. This plan may involve regular visits over a period of time to manage and alleviate your pain effectively.
Book an Appointment
If you are experiencing sciatica and seeking natural relief, we encourage you to contact us today to schedule an appointment with Dr. Johnson.
CONTACT US

Sciatica Crandall, Mesquite, Seagoville, Scurry, Kaufman TX | (972) 472-3818