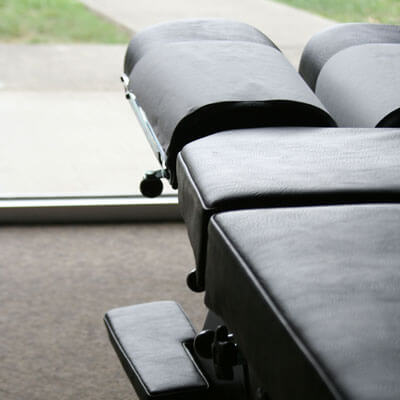 At our practice, we're proud to offer patients a variety of different modalities to help bring your body the best possible function and healing potential.
This week, we're spotlighting spinal decompression, one of our offerings that patients just can't get enough of—and for good reason. Here are a few things you may not have known about spinal decompression.
1. It's a great therapy for just about anyone. Spinal decompression works by stretching the spine to relieve pain and pressure on joints, and restores proper space between the vertebrae. Patients who may be experiencing sciatic nerve pain, herniated or bulging discs, and those with general back pain often make excellent candidates.
2. Each visit builds off the previous one. That means that over time, your results will continue to improve. A typical course of care involves a minimum of 12 visits to start—after that, we'll evaluate your progress and make any tweaks necessary. These visits will be spread out over a couple of months.
3. Spinal decompression is often a great addition to your care plan. Patients enjoy relaxing on our spinal decompression table before a chiropractic adjustment or cold laser session. If you aren't seeing the results you'd hoped for from one modality, chances are that adding a second (like decompression) may do the trick.
4. Patients usually see results after just 3-4 visits—but that doesn't mean you should stop care then. By visits 3 or 4, your body is just starting to get back to its proper function, which means you may notice improvements in pain levels and movement among others.
5. Dr. Johnson has seen an improvement in nearly 90% of patients who've used spinal decompression as a part of their care plan over his career—an incredible number!
Ready to Learn More?
We'd love to see you in the practice and get to know more about your goals in health. If you'd like to schedule an appointment, contact us today.
We look forward to welcoming you into our care.